- Slow Cooked Pork Belly, The Square At Porthleven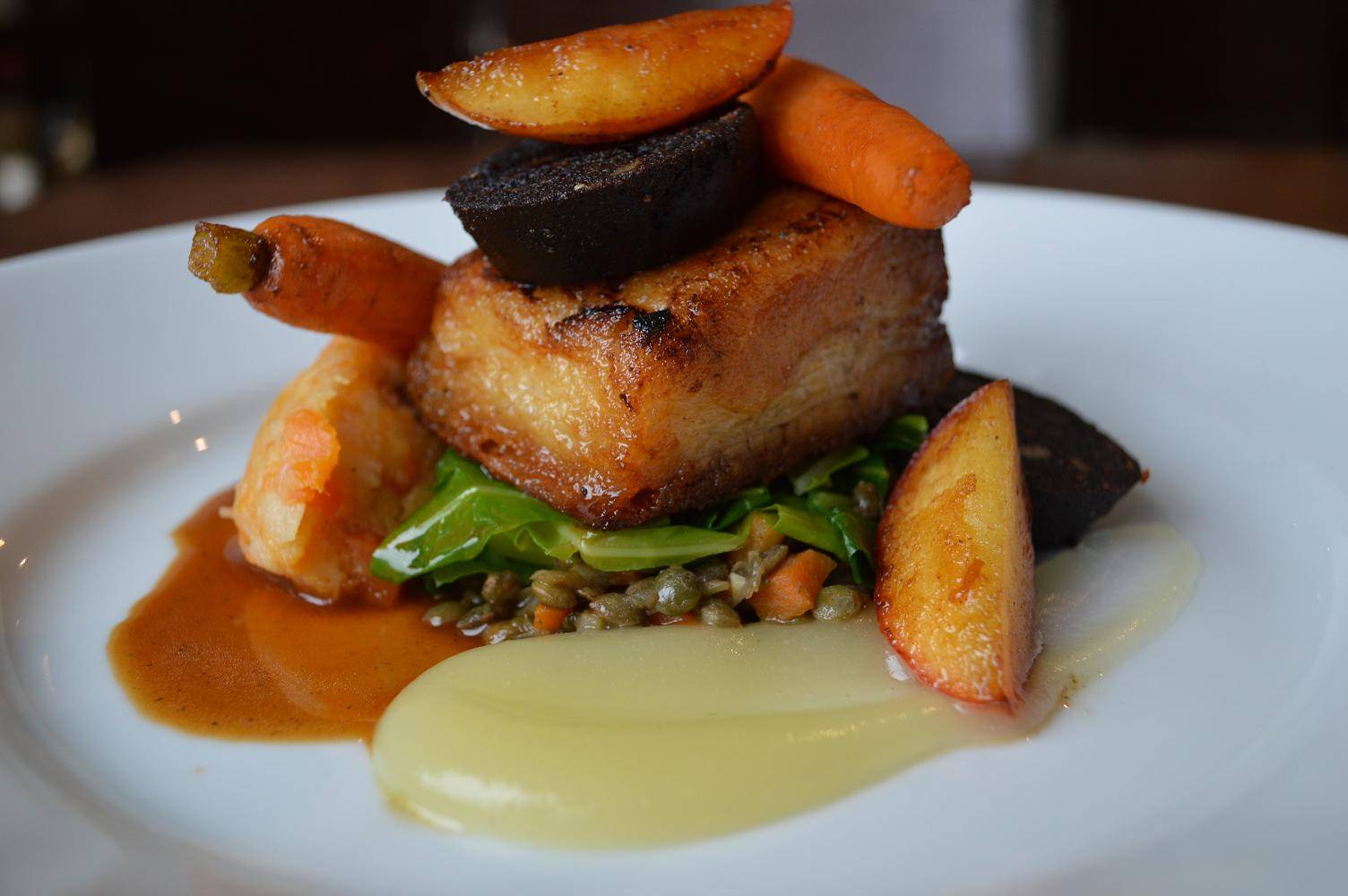 This mouth-watering recipe has been kindly provided by top local chef, Stew Eddy of The Square At Porthleven. Stew trained with Raymond Blanc at Le Manoir aux Quat'Saisons and with Michael Caines at Gidleigh Park, and has made a name for himself in Cornwall - serving delicious dishes using the finest seasonal ingredients.
Prep time: Cook the pork belly the day before, and allow to cool overnight. Cook time: 1hr
Ingredients
2 kg Primrose Herd pork belly
2 litre duck fat
Rosemary
Salt and pepper
1 kg parsnips
1 kg cooking apples
2 bay leaves
Winter greens
Primrose Herd black pudding
Pork gravy
Method
Preparation (the day or morning before)... Preheat oven to 120 C
1. Chop the rosemary and rub into the pork belly, along with plenty of salt and pepper.
2. Melt the duck fat and pour over the belly. Cook in a sealed pot in the oven at 120 C for 4 – 6 hours.
3. Leave to cool. Remove the belly from the fat and place in the fridge to set.
4. When cold, portion belly to required size.
When ready to cook... Preheat oven to 180 C
1. Cut the parsnips into batons retaining the trimmings, and blanch in boiling water for 2 minutes.
2. Take the parsnip trimmings and cook in water and milk with salt and pepper and 1 bay leaf until soft.
3. Drain the parsnips and puree until smooth.
4. Peel and core the apples. Cook with sugar, a bay leaf and a little apple juice until soft. Puree until smooth.
5. Blanch the winter greens in boiling salted water and refresh.
6. Crisp the belly and parsnips until golden brown in a frying pan with a little duck fat. Heat through in the oven for 6-8 minutes approximately, adding chopped or sliced black pudding for the last 2 minutes of reheating.
7. Warm the purees, greens and the pork gravy. Arrange all the elements on a warm plate with the pork belly and garnish on top.