- Braised Pork Neck With Chorizo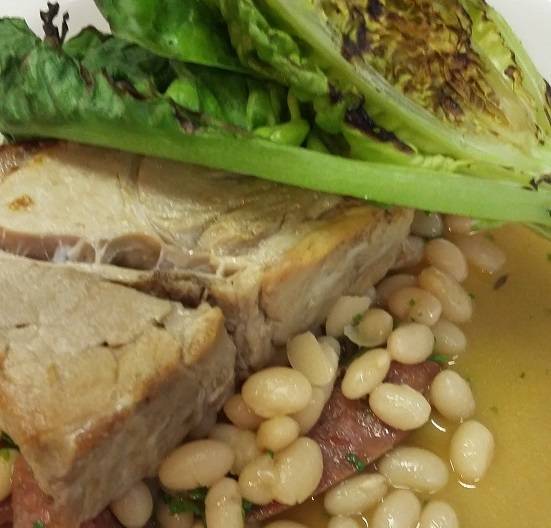 Thanks to Ben Harmer of Penrose Kitchen for providing this great recipe, which makes the most of an under-used cut - combining it with delicious Chorizo from our friends at Duchy Charcuterie. With a bit of prep (cook the pork and soak the beans the day before) this is an easy recipe for a hearty family meal. Try it at home - you won't be disappointed!
Prep time: Cook the pork belly the day before, and allow to cool overnight. Cook time: 1hr
Serves 4
Ingredients
1kg Pork neck, boned but not rolled
1 pint of white chicken stock
50 grams of thyme
2 carrots, peeled
Cornish Sea Salt
150 grams Rodda's unsalted butter
2 heads of gem lettuce
150 grams Duchy Charcuterie chorizo stick
2 shallots finely chopped
300 grams haricot beans
Method
1) Soak the white beans in water for 24 hours. Once soaked rinse well in cold water and place the beans in a pan with 1/2 pint of chicken stock and cover the remainder with water. Add 25 grams of thyme and 1 whole carrot. Season with salt and cover the beans with grease proof paper and cook for approx 2 hours very slowly or until tender.
2) Take the Pork Neck and remove skin (you can ask your butcher to do this). Place in a deep tray or if preferred a casserole dish. Add the remainder of thyme and the carrot with two good pinches of salt and cover. Braised at 130 degrees for 4 hours until the meat is tender.
3) Once the neck is cooked, remove and rest the meat. Reduce the liquid down by half then strain and reserve.
4) Take the Chorizo stick and peel away the outer skin. Slice it into about 1/2 cm pieces. Add 50 grams of butter to a saute pan, add the chorizo and cook slowly to extract flavour but don't burn the butter! Add the shallots and cook for about 3 minutes, until the shallots look a little translucent.
5) Add the beans and their liquid and some of the cooking pork stock. Reduce down but not on a hard boil. Once reduced add the remainder of the butter, stirring so it emulsifies. Remove and rest.
6) Take the gem lettuce cut in half and brush in vegetable oil season and char-grill for 1 minute in a hot pan, singing the edges slightly. Remove from the heat.
7) Take a hot bowl and add some of the bean mixture, cut a nice slice of pork and place on top. Add a piece of gem lettuce and serve with a nice chilled glass of white Rioja.