About Our Family Farm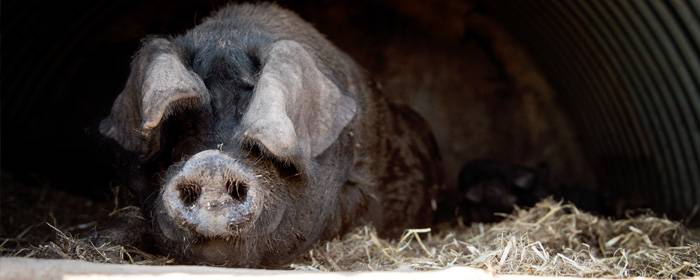 Hello and welcome. Let us introduce ourselves, our farm and our livestock. We are first and foremost breeders and finishers of traditional breed pigs, producing an award winning range of pork and bacon.
The farm is located in beautiful Cornish countryside, tucked away from the outside world and equidistant between the north and south coasts. The area is a World Heritage Site, and mine ruins dot the landscape.
The farm is a family affair, the dedicated pursuit of us, Sally and Bill Lugg, and our three children, who all play a part in the hands-on business of producing top quality pork cuts, bacon and sausages.
Our traditional and non-intensive approach to animal husbandry produces excellent marbling in the meat, a good meat and fat ratio, and a more developed flavour. All aspects of production take place in-house, allowing us complete control as we work to our tried and tested family recipes.
Primrose Herd has a butchery in Truro, regular stalls at farmers markets in Cornwall and distributes to nearby farm shops, maintaining the traditional connection with our local customers. Our pork is proudly served in Cornwall's top restaurants, endorsed by the renowned chefs of the South West, and has won multiple awards over the years.